One of the strangest interpretations of a song lyric I've ever heard was that John Lennon's "Come Together" was all about Superbowl III. The theory came from Harper, a middle-aged white guy who looked like an overwieght Larry from the Three Stooges. Harper worked at a second-hand record store in my small hometown in Central Illinois. I was perusing records there one day when he laid this theory on me. He was a bit of Rock conspiracy theorists -- he got into stuff like the
Paul is Dead
theory and the Pink Floyd's
Dark Side of the Rainbow
theory. His theories were always entertaining and often informative and he liked to keep his source material at his side whenever he was explaining one of his theories. In fact he had a large stack of books and magazines at his side as he explained his theory that"Come Together" was about Superbowl III.
Like most Rock geeks, I had already known that "Come Together" had been written for Timothy Leary in his campaign to run against Ronald Reagan for the office of California Governor in the late 1960s.
"Yes, initially it was, but look here," Harper said, handing over an article that explained Leary and Lennon had not been in communication with each other for awhile after Leary was sent to prison for possession of marijuana. Lennon kept the song, continuing to work with it and it took a different direction. "The lyrics were written during the spring of 1969, shortly after Joe Namath had won the Superbowl for the Jets."
"Okay?" I said cautiously, not seeing the connection.
Harper was one of these "read between the lines" thinkers. Everything that existed had some tangential connection to something bigger, you just had to look under the surface. His mind was always racing to figure these connections out.
"Okay, look at the lyrics," he said as though he was a lawyer making his opening statements. "It starts out with
'Here come old flat top'
which is a reference to Johnny Unitas, the quarterback that Nameth beat in Superbowl III. Unitas was famous for his flat top hair cut."
I nodded, like I was mulling this possibility over in my mind, as I recalled an episode from The Simpsons where Grandpa Simpson described Johnny Unitas's hair cut as a "hair cut you can set your watch to".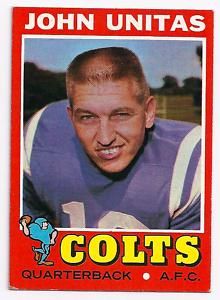 Harper continued going over the lyrics, "
He come groovin up slowly, he got juju eyeball, he one holy roller
. Ju ju eyeball was 60s slang for 'television' and Superbowl III was one of the biggest TV events ever at that time, it had more viewers than the moon landing, just a few months later. Everyone was watching it after Nameth made his famous guarantee that his team was going to win."
Again Harper pulled out an article, this time from a Sports magazine that gave a summary of Superbowl III. An estimated 50 million people had watched the game (an astronomical market share of 71). The cost of a 30 second commericial went for an outrageous (for that time) $55,000.
"What about holy roller?" I asked, encouraging him.
"Holy Roller is Johny Unitas's coach, Don Shula," he declared. "You were too young to remember this, but the media had a field day with Namath's antics, playing the young brash QB against the stiff-upper lip conservative Shula, who was well-known as being very religious. It was reported that he attended mass
every
morning and that he had considered becoming a Catholic priest, but was directed by God to become a football coach instead."
Harper was just getting into his groove. For arguments sake I decided to concede these points to him, but I still hadn't heard anything to convince me. "Okay, okay, what else do you have?"
Harper went back to the lyrics, "
He got hair down to his knee
, this is obviously about Namath who was not only known for his long hair, but he also famously wore full-length fur coats on the sidelines, that came down to his knees. And the use of the word knees, has a double meaning concerning Nameth, because Namath's knee was a huge part of his whole story since he had suffered a serious knee injury in his senior year in college that caused him to drop down in the NFL draft. Every conversation about how well Nameth was going to play always revolved around his bad knees."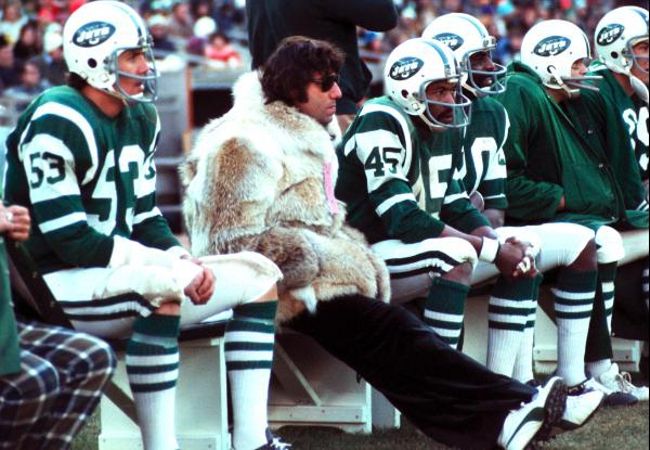 Harper then stopped to look down at the lyric sheet he had in front of him.
"Got to be a joker he just do what he please
, obviously about Nameth," Harper added, holding his hands out to his side, and shrugging to emphasize how obvious that line is.
As Harper ran through the lyrics, he found some connection between each line in the song that related to Superbowl III. The lyric "
He wear no shoeshine he got toe jam football
" referred to how Namath stood out from other pro players by wearing low-cut white shoes rather than traditional black high-tops. Harper pointed out that Namath's shoe wear was deemed so outrageous that it led to the NFL instituting fines for players not wearing shoes that match those of their teammates. As a response, the entire NFL eventually switched to Namath-styled white shoes. This controversy led to Nameth getting tagged nickname Joe Willie Whiteshoes. After that Harper went on to explain that the lyric "
Got feet down below his knees - Hold you in his armchair you can feel his disease
," was about Nameth's bad knee again and how it had been the talk of all the armchair quarterbacks . Also, the term 'armchair quarterback' was, according to Harper, a new term that became popularized for the first time during that Superbowl. It would have been an especially interesting term for Lennon, who was well known for picking up on new and interesting idioms.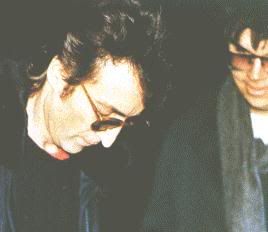 I imagined Harper did a lot of drugs in the Sixties. I imagine like Charles Manson and like the "Paul is Dead" believers and like Mark David Chapman, he thought Lennon and the Beatles were beaming out subliminal messages through their lyrics. Still, every time I hear "Come Together" I think of Harper's theory and I even listen for clues to support it - even though I don't believe it. Although,
one and one and one is three
... as in Superbowl III?