In 1980 Todd Rundgren's band Utopia decided to create "a Beatle album" – a collection of songs that sounded as if they could have been written, performed and recorded by the Beatles.

Even the lyrics would borrow heavily from Beatle quotes and lyrics.

The album would be called Deface The Music.

This idea of parroting the Beatles wasn't exactly new as just two years earlier, the fictional band The Rutles had done the same thing – only their music was part of an entire mockumentary titled
All You Need Is Cash
which had the participation and approval of George Harrison behind it.

The film and music had a direct affect on Rundgren who was a big time closet Beatle fanatic.

But Rungren's admiration of the Beatles seemed to lean toward jealousy and envy.

Two specific run-ins with former Beatles seemed to bare this out.

The first run-in came not long after the Beatles officially broke up in the early 1970s.

George Harrison had been producing Badfinger's Straight Up album for Apple records, but When Harrison dropped the project in order to devout his energies on his landmark
Concert For Bangladesh
, Rundgren was asked to step in as producer to finish the album. Straight Up became a critical and commercial success, but there was conflicting opinions as whom deserved credit for the success since Harrison and Rundgren were both sited as the album's producer.

Like all things, this little run-in passed, but it set the stage for a feud that erupted a few months laater when Rundgren first met John Lennon at L.A.'s iconic Rainbow Bar and Grill.

Lennon, in the midst of his famed
Lost Weekend
phase, was in a drunken stupor, stumbling around the club.

Predictably, Lennon did not recognize or acknowledge Rundgren.

Lennon's drunken display left Rundgren with an impression of Lennon that was starkly at odds with the image of Lennon as an anti-war activist and voice of a generation.
Lennon's snubbing had been stuck in Rundgren's crawl as he went home and began to work out his thoughts on a new song called "Rock and Roll Pussy".

The song included the lyrics "Get up and see Revolution on TV...will you get your nails dirty or are you only just a rock and roll pussy?"...

A short time later Rundgren was interviewed by Melody Maker magazine and it was revealed that his finger pointing in "Rock and Roll Pussy" was aimed specifically at the phoniness of Lennon's limousine liberalism.

The connection of the lyrics and the song title (

Lennon had produced Harry Nilsson's album The Pussy Cats) to Lennon was an easy one to make. The interview elicited a reply from Lennon (which also appeared in Melody Maker) called
Opened Lettuce to Sodd Runtlestuntle
in which Lennon basically put Rundgren in his place as he eloquently expressed the irony of a protest song that was protesting protest.
After Lennon's bitch-slapping, Rundgren retreated to the safety of his studio in Woodstock to lick his wounds and regroup.

There he went on to become one of the best and most interesting producers of the 1970s as he recorded iconic albums for artists as diverse as the New York Dolls, Hall and Oats, Grand Funk Railroad, Sparks, the Band, The Tubes, Meatloaf, Cheap Trick and Patti Smith.

Meanwhile he continued to record as a solo artist (
"Bang On These Drums"
) as well as a member of his experimental space rock turned power pop band Utopia (
"Feet Don't Fail Me Now"
).

By 1980, Lennon had not recorded in nearly half a decade while Rundgren was at his peak as a producer and artist.

Finally, after viewing the Rutles All You Need Is Cash, Rundgren was ready to take another poke at Lennon.

This time he would show the music world just how easy and simple it was to reproduce what the Beatles had done.

As if to say, there was nothing ingenious about the Beatles – nearly any musician could have done what they did – Rundgren's Utopia recorded and released
Deface The Music
with an air of one-upsmanship that might have elicited a response from Lennon if it hadn't had been for the bullets from Mark David Chapman's revolver.

Deface the Music, which was released in October of 1980, just a few weeks before Chapman ended Lennon's life, was in fact actually sited by Chapman as an inspiration.

Chapman who had been a Beatles fan, claimed Rundgren had

influenced him to see Lennon as a phony. Chapman explained that this notion that Lennon was not all he was cracked up to be went back to Rundgren's "Rock and Roll Pussy" and Rundgren's comments about Lennon in the Melody Maker article.

With the release of Deface The Music, this notion was reinforced within Chapman as Rundgren's music became his soundtrack during the weeks leading up to the assassination of Lennon.

Chapman had memorized every word, sound and moment in Rundgren's entire discography in fact and sited Rundgren as the largest influence on his world vision.

Chapman tried to contact Rundgren just days before he assassinated Lennon and afterward, when he was arrested Chapman was wearing a promotional t-shirt for Rundgren's solo album
Hermit of Mink Hollow
.

Although the meeting between Rundgren and Chapman never happened, Chapman declared that Rundgren's music lived "right between the chamber" of his heart.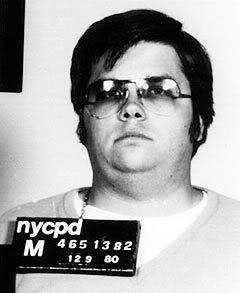 Realizing his role in the murder of Lennon (however unintentional it was) could not have been easy for Rungren, who immediately escaped to the solitude of his studio to record his next album, the solo record titled Healing.

How much the assassination of John Lennon bothered Rundgren is hard to determine since he has deflected questions about the assassination ever since it happened.

Initially it appeared that like Paul McCartney, he was going to deal with it by trying to drown himself in work, so as to not have to think about it too much.

But the weight of influence on Chapman was something he cold not escape and what emerged was an attempt to right what he had wronged.

Perhaps one of the top twenty strangest concepts for an album ever conceived, Healing seems to reflect the dire state in which the Lennon assassination had entangled Rundgren in – and the earnestness in his attempt and his belief in the healing power's of music.

In the album's liner notes, Rungren declared that the world needed a healer and as he delved deeply into the making of his ambitious concept album Healing he set out to forge a guide for those needing to be healed.

Chapman, who was now headed to a mental ward, seemed to inspire this idea that music, a song, or an album, really could effect people's lives in drastic ways.

As Rundgren began working that concept over in his mind, it made its way into the grooves of Healing.

The concept formulated into Rungren's attempt to actually create and record music and sounds that would physically, mentally and spiritually heal people upon hearing them.
The lyrics to side one of Healing revolve around a protaganist who has discovered that he has healing powers through "some sort of musical mechanism".

Side two then was the soundtrack that the protaganist created which could actually physically heal.

"Sound healing" as Rungren pointed out has roots going back to the time of Plato. "Certain tones are attached to certain chakras," he explained.

His idea was to explore synthisized drones that mirrored the noise that the central nervous system makes during the healing process.

This manipulate of sound would theoretically have a healing effect on the listener.

Evidence that Healing did exactly that came after the album was released and therapist began using the album as a theraputic tool.

It doesn't take a genius to realize that listening to music can alter moods and relieve stress, so Rungren's concept may not have been as flighty as it first seemed.

In fact a number of psychatrists and mental hospital workers began to proclaim that Healing did in fact have the desired affect when played to patients that were distressed.
Also issued with the album Healing was a bonus seven-inch 45 titled "
Time Heals
" that was only tangentially relevent to the concept of the album.

Issued because the record company needed a single, "Time Heals" had a video made for it in which Rundgren danced superimposed over images of Salvador Daly-like time melting clocks and Magritte-like men in bowler hats.

"Time Heals" became the second video ever played on Mtv which launched in August of 1981, coming right after the Buggles video "
Video Killed The Radio Star
".
©2006 Rockism 101. All Rights Reserved