Welcome to installment 3 of our five part series on "How To Be In a Tribute Band without having to mortgage your home". Today we look at the frontman -- the lead singer, and the signature Rock poses that he (or she...but mostly he) has to master in order to succeed.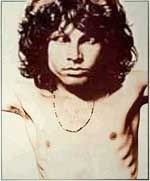 One of the most important and often overlooked posing opportunities for any lead singer comes during that so-called 'downtime' when the frontman is not the focus of attention. It could be during a bass solo, or an intricate 3 part instrumental jam that the other band members insist on wallowing in for 5 to 10 minutes. But when that downtime comes, as a frontman you must be prepared.
So, how do you handle this? Do you shuffle off to the side and twiddle your thumbs? Hell, no. There are a myriad of ways to subtly give the audience a little eye candy (or in the case of David Lee Roth, actually steal the limelight) during these 'musical' moments.
Take for instance, Mick Jagger. Pretty much a total wanker, yet Rock fans pay hundreds of dollars to crowd together in sweaty, smelly, 20,000 seat arenas just to watch this 60 year old walking marvel of plastic surgery (who hasn't written a half decent tune since the Carter Administration) strut around like a rooster set loose in a hen house while Keith Richards stumbles over a guitar solo as if he were trying to climb a coconut tree. Why would any Rock fan do this? Mostly because they are idiots, but also because of the eye candy Rooster strut (and a few other reasons that I'll save for another time).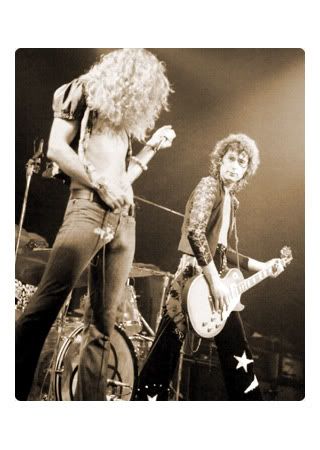 Fortunately for Mick, the Stones' guitar solos are basically short and sweet, but what do you do if you are in a Led Zep cover band and your Jimmy Page-wannabe is making a career out of the 'Dazed and Confused' solo? That's when you go to the tapes and study the master (Robert Plant) himself-- and you just 'groove, man'. Close your eyes, throw your head back, sway your hips, and throw in a few moaning, sexual, orgasm-ish sounds. It also doesnt hurt to have long, luscious, flowing, golden locks and an armadillo in your trousers as well...
You looked, didn't you? (freaking weirdo) Anyway, neither Mick's nor Plant's tactics are really that difficult to master, but if you are really lucky you will find yourself in a Ramones tribute band. The Ramones decided to bypass this entire guitar solo bullshit and blast out two-minute thrash-fests in which Joey barely had time to catch his breath and part his hair between choruses.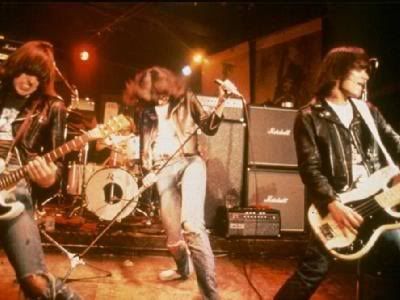 But even then, Joey had to rely on what all frontmen secretly need, and that's a good prop. Something they can fondle or twirl or rub their crotch against while the rest of the band is jamming away. Joey had his hair and his sunglasses. But other singers need bigger props. Roger Daltrey, for instance, was famous for his microphone twirl.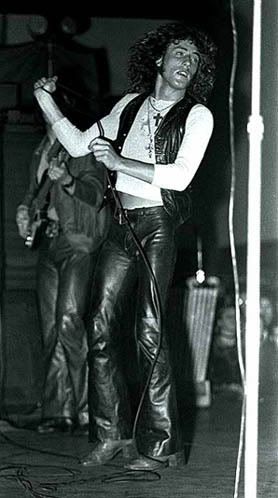 Axl Rose, of course, was known for using his mic stand to gyrate against. Elvis used a prop guitar to accentuate his pelvic liberations. Steven Tyler needed Gypsy scarves. David Johansen used 6 inch high heels. Alice Cooper used everything from snakes and straight jackets to electric chairs and guillotines. Then there was Gibby Haynes, who used an assortment of props (including a live nude female whose oil he would check right there on stage).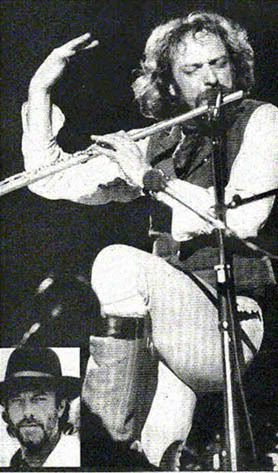 Let's also not forget Ian Anderson, who used his flute, which technically IS an instrument, but come on--its a fucking FLUTE! And what better classic frontman pose is there than the famous one-legged 'I gotta let one rip' flute-stance right before squeezing out a medieval flute solo?
But the all time master of the Rock pose had to be David Lee Roth. No frontman in the history of Rock ever had his work cut out for him more than Diamond Dave. Not only did he have to steal the limelight from a bass player who looked like an out of work plumber and whose guitar looked like a whiskey bottle, but he also had to outshine the Stravinsky of the stratocaster, the innovator of the axe, the Mammoth of the modded Marshall amp, Edward Lodewijk Van Halen himself.
But how exactly did David Lee accomplish this? Well, he actually used his entire body as a Prop. He studied martial arts and was an avid mountain climber. All of which came in handy when he'd be required to do his patented backward flips, or his head-cheerleader-esque "I've got spirit yes I do! I've got spirit how bout you!" high kicks, or his olympian somersaults and so on. And then, if that wasn't enough, he'd punctuate it all by fluffing his hair as if he were in a shampoo commercial or else holding his hands in front of his cock in a suggestive manner, as if he was offering it up for auction. All of which, by the way, makes Van Halen the most difficult band to tribute. There have been other physically active frontmen in Rock, guys like Anthony Keidis and Henry Rollins, but none of them really had the poses like Roth did. (Only Jim Morrison, who once whipped his wang out on stage just to see what it looked like in the spotlight, could possibly challenge Roth as the most commanding frontman in the history of Rock...but that's a debate for another day).
Since every frontman can't be a martial arts expert or whip out his wangdoodle on stage, there are other ways to compete with spotlight-stealing gunslingers who engage in gravity defying, high flying guitar leaps like this:
Or guitar smashes like this: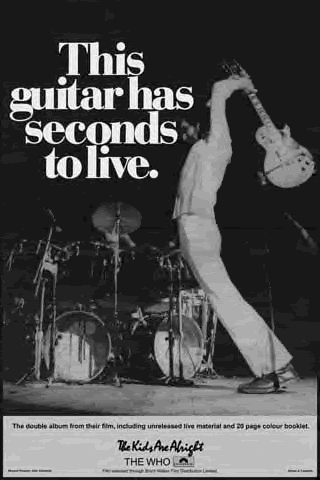 One thing you might do to steal the spotlight back is to bite the head off of live bats a la Ozzy.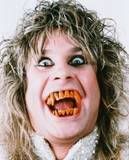 Or slice yourself up with razor blades...
Or hell, why not just say fuck it all to hell, like Arthur Brown and go light your fucking head on fire (afterall the burns only last a few days but the memories last a lifetime)!
But for god sakes, whatever you do, Please don't burn off your penis--else you be doomed to a life as the frontman for an Emo/BritPop coverband, in which case you would have to learn the unfortunate 'little sister tattling on her big brother for blowing the head off her Barbie with a M-80, hands-tied-behind your back, deepthroat' mic sway, like this(tamborine optional):
Poor Freddy Mercury must be turning over in his grave...
©2006 Rockism 101. All Rights Reserved