I

didn't really know what a groupie was until I was about 14 years old. I had seen them at local fair grounds and other places Rock bands performed, but I didn't know what they really were until one day I read a magazine article that detailed the infamous Led Zeppelin episode in which John Bonham 'made love' to a groupie using a trout (or some kind of fish). After that I became kind of fascinated with the entire groupie culture, and I soon came to realize that it was an instrumental part of Rock, going back to the beginning days when Elvis Presley had his manager line girls up outside his hotel room for him to pick and choose from. So I began to study groupie culture and the groupie phenomenon. Here's my report:
Songs about Groupies:
By the mid 60s, in many ways, the Groupie factor had become a force that was shaping the Classic Rock landscape. The key was that, although there were some groupies who were famous within Rock circles at that time, for the most part, groupies were NOT famous. They were almost famous. This was important, because it meant that they would have to fuck and suck their way through managers, promoters and roadies to get to their desired rock star. Occasionally they would be rewarded with a song written about them:
~'200 Motels' or 'Our Bizarre Relationship' by Frank Zappa.
~'American Band' by Grand Funk Railroad who paid homage to a wild, almost famous groupie from little rock Arkansas named Sweet, Sweet Connie (who was also a school teacher).
~The Beatles' 'Polythene Pam' and 'She came in through the Bathroom window' which was a tip of the hat to a band of groupies called the Apple Scruffs who stood post outside the Beatles recording studio everyday.
~In the Rolling Stones song "Rip This Joint" there is a reference to the 'butter queen' - a groupie from Dallas named Barbara Cope who was well known for using butter as a lubricant when servicing her Rock stars.
~Kiss wrote a song called "Plaster Caster" that made reference to Cynthia and Diane Plaster Caster, who were possibly the first groupies to actually become semi-famous.
The Plaster Casters had a niche. They traveled to various rock venues carrying around a small briefcase that held the tools with which they created plaster of Paris duplications of the Rock god's penises. They would finagle their way into the back stages and hotels, use their powers of persuasion to get the rock star naked and then make a molding of that Rock star's famous penis. Their collection eventually contained casts of Jimi Hendrix, Jim Morrison, Noel Redding, Eric Burdon, Peter Shelly, Jello Biafra, Richard Lloyd of Television, and a cast of dozens.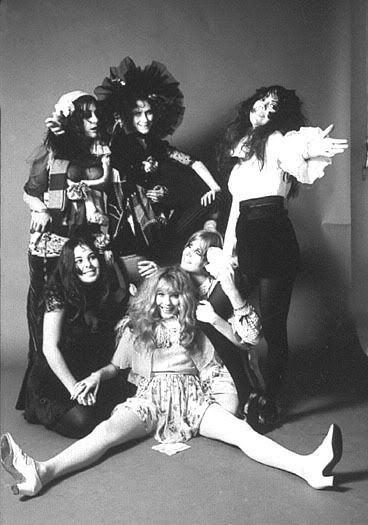 GTOs:

The first
semi-famous band of groupies was the Frank Zappa-inspired GTO's (which has been said to stand for Girls Together Outrageously, Girls Together Occasionally, Girls Together Only, or Girls Together Often). Their group included Miss Christine, Suzi Cream Cheese, Miss Lucy, Miss Mercy, Sparky, Cinderella, Miss Sandra as well as probably the most prolific groupie of all-time: Pamela Des Barres.
Miss Pamela had personified the free-spirited, free-lovin' '60s groupie. She managed to become involved with many of the biggest rock stars of the Classic era including Jimmy Page, Mick Jagger, Jim Morrison, Nick St. Nicholas of Steppenwolf, Noel Redding of the Jimi Hendrix Experience, Waylon Jennings and the Who's Keith Moon.
In the 60's, most groupies were harmless hippie chicks but by the 70's groupies like Des Barres were setting the foundations for what would become the Super Groupie. By the 70s, the role of a groupie had evolved into being a necessary rite of passage for any girl who wanted to eventually enter into a relationship or possibly even get married to a rock star. One legendary super groupie who worked this angle was Bebe Buell. Bebe dated Todd Rundgren, Mick Jagger, Iggy Pop, David Bowie, Jimmy Page, Steven Tyler (whom she had a kid with—actress Liv Tyler), Rod Stewart and Elvis Costello (who she claimed had gotten her pregnant and had written a number of songs about her—which Costello denies). Buell also claimed that Prince had written "Little Red Corvette" about her in which Prince sings "Bebe, you're much too fast".
Another super-groupie was Cyrinda Foxe-Tyler who worked with Andy Warhol and was best know for her role in "Andy Warhol's Bad." She also had an affair with David Bowie, got pregnant and had an abortion then worked with David Bowie as a Marilyn Monroe look-alike, appearing in his "The Jean Genie" video before marrying David Johansen, frontman for the New York Dolls, in 1977. Cyrinda then bounced off of Johansen a year later and landed on Steven Tyler. Her last marriage was to musician Keith Waa which lasted 3 days.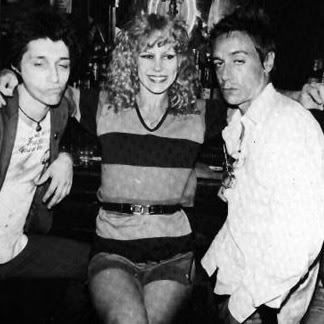 The list of Super groupies of the 70's is a long one, there is Sable Starr, whose sister Corel was also an important groupie. Sable Starr had gotten into the groupie trade at the age of 15 when she met up with the New York Doll's Johnny Thunders. Later she hooked up with Jimmy Page, Marc Bolan, and Iggy Pop.

Then there was Angie Bowie who married David Bowie in March 1970. Angie was as well known for her female sexual conquests as her male ones, including Cyrinda Foxe-Tyler, Marianne Faithfull and Cherry Vanilla.
Cherry Vanilla herself was also part-groupie. She had been one of the first DJ's of the late 60's club scene. She also worked with Andy Warhol in various plays until she met David & Angie Bowie and began an affair with the both of them. Later she was the original singer for the Police and she also helped Debbie Harry get started. Her book Pop Tarts is considered to be the prototype for Madonna's book Sex.
These SuperGroupies of the 70s all set the stage for the drastic changes in the role of the groupie that transpired in the 1980's. In the 80's, aided by Mtv, it had become possible for the Rock groupie to go from being 'almost famous' to being just as famous as the rock stars they were humping. (Winona Ryder, Pamela Anderson, Kate Hudson). The first Super Groupie to actually attain this kind of break-through fame was the legendary Tawny Kitane. Kitane first came to fame as the spread-leg video vixen and girlfriend of Whitesnake's lead singer David Coverdale. Coverdale famously gave Kitane a part in his music video. This led to a lackluster career in the movie industry for Kitane before she ended up marrying major league baseball pitcher Chuck Finley--a relationship that ended with Kitane being arrested and charged with spousal abuse and battery after she allegedly kicked and twisted the ear of Finley during an altercation where she used her fists and boots to beat the snot out of him. She then accused him of being a boozer, a pot smoker, and a steroid user to the press. I guess this is what happens when sports stars trying to enter the mysterious and dangerous world of Rock...
Occasionally a groupie will come along that seems to be like poison. They somehow become responsible (or at least blamed for) either ruining a Rocksters career, breaking up the band, or causing him to get hooked on drugs and every other bad thing that happens in his life. The three most famous evil groupies are: Courtney Love, Nancy Spungeon, and Yoko Ono.
For more writing by Ed Wagemann click here:
ED WAGEMANN